We are committed to running BSides Canberra 2021.

BSides Canberra 2020 had to be cancelled due to COVID-19, however we are planning several alternative arrangements to ensure that BSides Canberra 2021 will run regardless of the pandemic situation across the world.

We have booked the National Convention Centre for 2021 and we hope you can all join us in person, however additional preparations have been planned.

BSides Canberra will:
post out all 2000+ delegate packs if limitations on gatherings occur
provide an online option for virtual attendence if travel restrictions are in place
National Convention Centre
In 2021, BSides Canberra will be held at the National Convention Centre. The NCC is Canberra's leading meetings and events venue; unrivalled in facilities, size and scope.

The Centre is located in the heart of the Central Business District. A short 7km drive from the airport, walking distance to Canberra's largest shopping precinct, restaurants and bars and a variety of accommodation.

Accessibility details can be found here.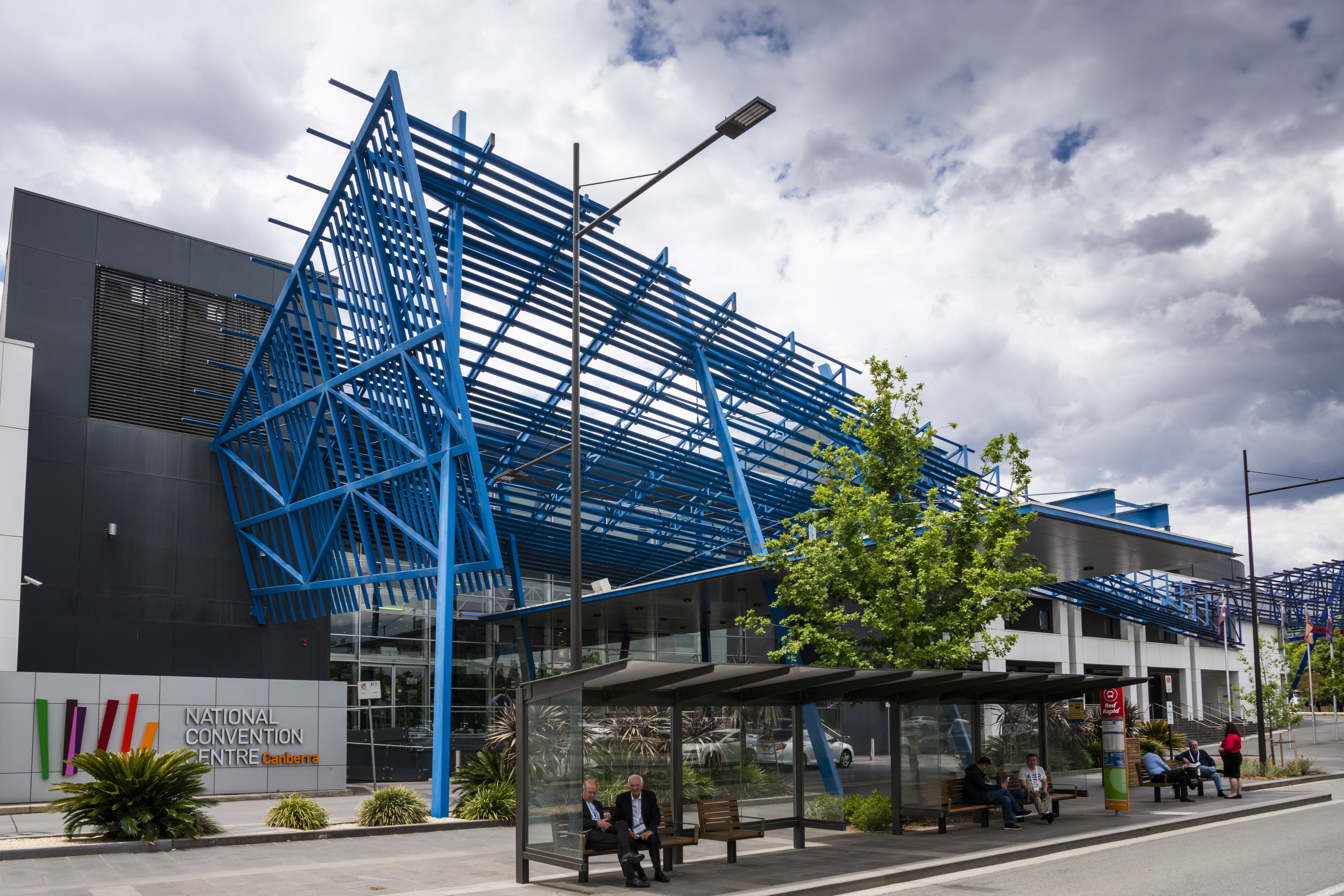 Getting to Canberra
If you're flying within Australia, hop on a Qantas or Virgin Australia flight. Canberra is less than an hour from Sydney and just over an hour from Melbourne. Flights take off daily to and from Adelaide, Brisbane and Perth. The Canberra Airport also has direct international flights from Singapore and Wellington, New Zealand.

If you're driving from Sydney, you'll find the trip easy, quick and straightforward. Canberra is only 3 hours along the Federal Highway, and you drive through some pretty country.

Trains, buses and coaches are easy to catch. Sit back and relax in air-conditioned comfort while travelling to Canberra. Canberra's direct rail service from Sydney runs regularly (CountryLink) as does the combined train and coach trip from Melbourne (V/Line).
Parking
Convenient, secure, underground car parking is available 24 hours a day, 7 days a week at the National Convention Centre Canberra. There are 480 parking spots with internal lift access from the top level. More details can be found here
Accomodation
Hundreds of accommodation options are available, including hotels, apartments, bed and breakfasts and specialty options, at all price points. Plenty are within walking distance of the National Convention Centre Canberra.

A list of the closest hotels to the National Convention Centre Canberra can be found here.
Crowne Plaza Canberra
Crowne Plaza Canberra is the closest hotel to the National Convention Centre, only 2 minutes walk away. The central city location overlooking Glebe Park is only a short stroll from shops, restaurants and bars. Parliament House is 3km from the hotel while Canberra Airport is 20 minutes drive.